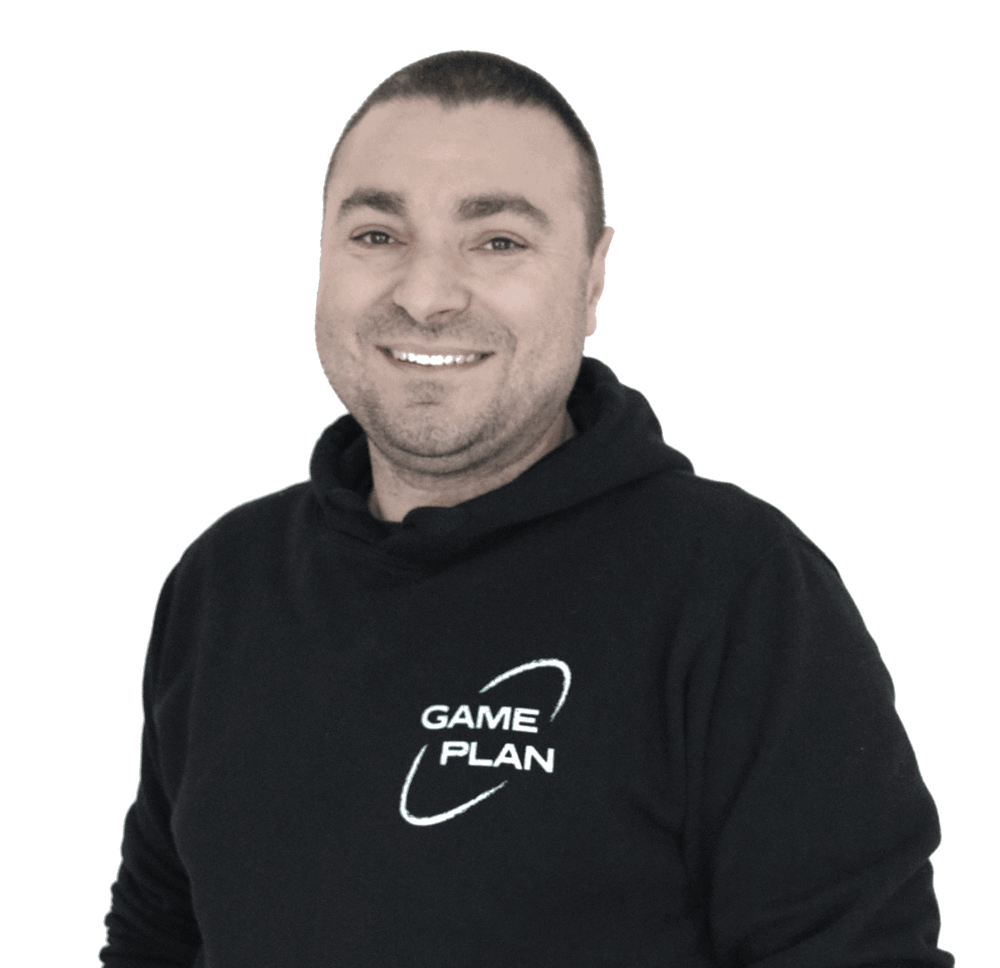 Methods Webinar Coordinator
Game Plan Coach
BCom/BSc, GradDipEdu
Jimmy is a senior leading teacher with over 15 years' experience in the education industry. He has worked in a range of schools within the independent sector and has a wealth of experience in teaching within both VCE and IB frameworks. Over the course of his career, Jimmy has been an examiner with the Victorian Curriculum Assessment Authority (VCAA) and has presented at the Mathematics Association of Victoria's (MAV) annual conference. Furthermore, he forged a successful soccer career in the Victorian Premier League and has coached a range of elite junior sporting teams. Jimmy is passionate about building positive relationships that enable young people to reach their full potential.
Educational Psychologist
Game Plan Coach
MPsych(Ed&Dev), GradDipPsych, GradDipBehavSC, BArts(CrimJustAdm), PsyBA, MAPS
Yiorgs has been working with children and adolescents for 15 years. For the past 6 years, he has worked as a Psychologist with the Department of Education & Training. During this period, Yiorgs has acquired in-depth knowledge in relation to a number of areas, including managing anxiety and depression. Yiorgs is passionate about building positive relationships with adolescents to help them develop resilience in order to confront and overcome challenging life situations.
Methods Webinar Coordinator
Game Plan Coach
BSc (HONS), MPhil
Upon graduating high school, Isaac has devoted his time at university and beyond to working with and mentoring adolescents. Isaac competes at the elite level in sport whilst maintaining a rigorous academic regiment. With research specialising in adolescent and paediatric outcomes Isaac has published medical research on improving standards of care. Through his passions in sport, academia and mentorship, Isaac has made it a lifelong commitment to improve standards of care in adolescents. Isaac combines the most up to date evidenced based research with his experience in student performance to facilitate holistic student success. As a team member of Game Plan Coaching, Isaac provides a fresh outlook of youth, fostering in depth mentoring relationships.
Primary School Learning Support
Game Plan Coach
BCom (Currently Undertaking)
Since graduating high school, Addie has been passionate about empowering students and assisting them in realising and executing their academic and personal goals. This passion has led Addie to volunteer as the Director of Grassroots Operations at Oaktree (Australia's largest youth-led international development organisation), coordinating the creation and facilitation of Student Ambassador Workshops nationwide. Juggling leadership positions and competing as an elite national swimmer during Senior School, Addie can relate to the struggle but necessity for time management. As a Coach for Game Plan, Addie is excited to share her experiences and learnings, whilst also providing a commitment and patience to see our students succeed.
IB English & History
Game Plan Coach
BA (Currently Undertaking)
Bailey is currently undertaking a Bachelor of Arts in the areas of Psychology and International relations. Following a passion for languages, Bailey is simultaneously completing a diploma in Spanish and Latin American Studies. Outside of his educational commitments, Bailey is very invested in the community, as a high school student he was involved in the performing arts, debating and enjoyed ports such as basketball and athletics. Since finishing school Bailey has volunteered for a variety of non-for-profit organisations. In one non-for-profit he helps regional students gain access to academic help which is otherwise limited and inaccessible. Given his past experiences, commitment to education and deep care for the welfare of others Bailey is a great mentor for active and creative young women and men.
Primary School Learning Support
Game Plan Coach
BSc (Currently Undertaking)
Chrissie is a recent high school graduate who has now begun studying her Bachelor of Science degree. Chrissie has a passion for academic studies and helping students learn to balance the everyday mental and physical struggles that come with the pressures of studying in senior years. Chrissie takes a particular interest in sports science and mental health which provides her with an understanding of the importance of self-care and physical health. This interest has furthermore helped her understand how to guide herself and others through stressful times, in order to stay organised and on track within everyday activities.
Maths Yr 7-10
VCE Further Maths
Game Plan Coach
BBus (Currently Undertaking)
Whilst completing his university studies of Business and Entrepreneurship, Jack is committed to improving the well-being of youth in every facet of their lives. From his extensive background in tutoring high-school students, to working in therapy groups with autistic children, Jack is developing a great understanding behind the bespoke nature of cultivating student well-being. A motivated individual, Jack focuses on fostering meaningful relationships with adolescents to support their mental health and academic endeavours. With his new-found passion for a holistic approach to well-being and mentoring, Jack is dedicated to improving the success of his students.
LL.B. (HONS)/BA (Currently Undertaking)
Jessica is a recent high school graduate who has consistently committed to assisting students in their organisational strategies, academic performance and most importantly, their wellbeing. Jessica has had a life-long commitment to her academic studies – particularly in developing effective study and organisational habits to improve mental and physical wellbeing during stressful periods. Jessica has taken particular interest in sociology which has provided her with understanding of the importance of self-expression and individuality when working within the schooling system. Though her commitment to study and student guidance, Jessica provides Game Plan Coaching with student-tailored guidance and understanding.
VCE Maths Methods & Economics
Game Plan Coach
BCom (Currently Undertaking)
After recently completing high school, Cristian values a holistic approach to education focusing on academia, sport and leadership. He has a strong belief in helping people reach their potential and has a particular passion for providing necessary strategies to motivate others to achieve goals - especially when the stress and struggle of high school can make it more challenging. Placing emphasis on the value of a well-rounded education - he hopes to provide guidance and personal experience on how best to tackle high school and beyond.
Primary School Learning Support
Game Plan Coach
BSci/BMus (Currently Undertaking)
Whilst completing a combined Bachelor of Science (Psychology) and Bachelor of Music, Liv has spent her time working to improve student wellbeing at her former secondary school as a community and security liaison. Liv has a strong interest in mental health and wellbeing and one day hopes to work in the field of adolescent psychology. Dividing her time between leadership positions, competing as a national rower, and now juggling university, sport and community theatre commitments has taught Liv how to manage her time to allow herself to pursue her passions as well as achieve academically. Liv is excited to be part of the Game Plan coaching team, and to use her life experiences to help other students achieve their academic goals whilst maintaining overall wellbeing.
BCom
Jack is a Bachelor of Commerce graduate who has progressed into the corporate world since finishing his studies. Jack has worked with students for 5 years through a combination of mentoring and coaching boys and girls sporting teams. Jack is a very social, outgoing and sporty person who can help kids with time management, organisation and planning. As a coach, Jack will provide over and above support and help to implement bespoke strategies to allow his students to best succeed.
VCE Legal Studies & Literature
Game Plan Coach
LL.B/BA (Currently Undertaking)
Focussed and motivated, Amy graduated in 2018 and is currently undertaking a Law/Arts (majoring in French) degree at university. She has tutored English to a myriad of students from different backgrounds, and therefore is able to cater to unique learning styles. In high school, Amy oversaw the debating program as its captain and taught younger students public speaking skills, articulation and organisation. Whilst Amy is very passionate about education, she also wishes to emphasise the importance of a balanced life, as she participates in many social sport competitions, directs a student-run academic tutorial program for law students whilst fostering her hobbies: travelling, playing piano, reading and writing. Amy is incredibly excited to take on her role as Game Plan Coach and friend in order to help her students achieve their academic and personal goals.